XTB Equipment Ordering
Last Update 01/17/18
The XTB devices were originally offered as complete parts kits for customer assembly. Custom assembled units are also available for those who do not have the time or skills to assemble a unit by themselves. Even though component prices have been increasing, only the XTB-IIR+ increased in price this past year.
KIT WARNING: Do not order a kit if you are not skilled at assembling high-density PCBs. Please refer to the corresponding assembly notes on the XTB Home Page before ordering a kit. My policy had been to repair a kit at no charge except for return shipping. One came back in such horrible condition that it took twice as long to rework than to assemble a new PCB from scratch. As a result, any kit that comes back for repair may incur the full labor charge for an assembled unit. I hope this makes potential kit builders honestly evaluate their skills before trying to save money by building a kit.
These are DIY projects, and are not commercial devices with UL approval.
Since I didn't have the resources necessary to obtain UL approval for these devices, a signed Liability Waiver is required for the XTB-IIR and some of the other units. The waiver contains enough legalese to make your head spin, but it is summarized pretty well at the bottom. You can either send it to the indicated address, or email me a scanned copy in a printable electronic format.
(ORDERING DETAILS ARE AT THE BOTTOM)
(Click on the unit below to jump to that section.)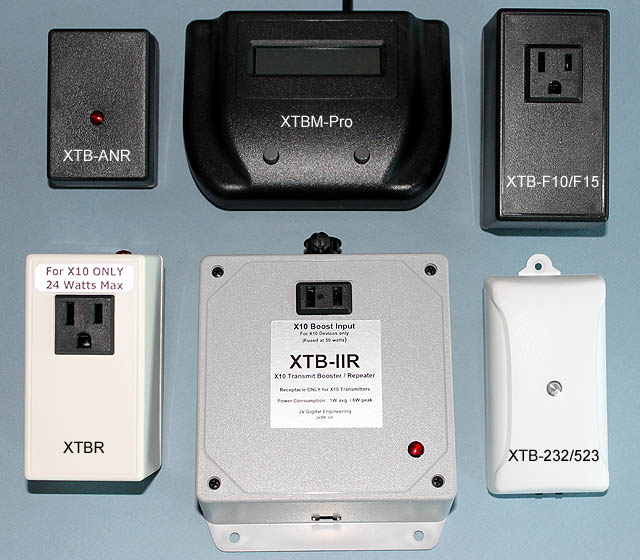 Current family of XTB Products
AVAILABILITY:
Kits and most assembled units normally ship the next business day. International units are assembled as orders come in, and normally ship in a few days. A notice will be placed here if a particular unit is temporarily unavailable.
PRICING:
Kits are priced at the single-quantity component prices, plus a fee for the time it takes to order parts and package the kits (which totals over an hour for the XTB-IIR). The assembly charge covers the labor to assemble and test the units. For reference, back in 2008 an assembly service quoted $90 each for just the XTB-IIR PCB at 40 units.
Since the XTBM is such a valuable tool for keeping your X10 system running properly, there is a discount for those who purchase the XTBM and XTB-IIR together.
---
The XTBM displays X10 signal voltage, carrier frequency, and last decoded X10 command. It also displays powerline noise, and will indicate various types of errors that plague X10 communication. With its 10mV resolution, the XTBM should be a valuable tool to help you track down troublesome X10 problems. (The XTBM now has a backlit display like the XTBM-Pro.)

Check availability of the correct 240V plug before ordering an assembled international unit.

We have several XTBM X10 Signal Meters available for short-term rental. The cost is $20 for one month, which includes return shipping (US only). The $100 deposit will be refunded if we receive the unit back within one month. (NOTE: Rental units do not have a backlit display.)

Contact us first for details and to check if a rental unit is available.

The XTBM-Pro is an enhanced backlit version of the XTBM that adds several additional display modes, including an expanded noise readout, a logging history, and the ability to see the individual bits in a command. The XTBM-Pro provides an independent tool to help you track down troublesome X10 control problems.

Check availability of the correct 240V plug before ordering an assembled international unit.

SPECIAL: $20 off an assembled XTBM or $10 off a kit when combined with an XTB-IIR order (USA only).

Both XTB-IIR versions require receipt of a signed Liability Waiver before the unit will be shipped.

XTBM-Pro upgrades:

A backlit XTBM ordered after 2/15/11 can be upgraded to the XTBM-Pro for just $49, including return shipping (US). A standard assembled XTBM ordered after 9/01/11 can be exchanged for an assembled XTBM-Pro for $69, including return shipping (US). If you would like to upgrade your XTBM, please contact us on how to proceed.
---
XTBR Plug-in X10 Booster/Repeater (120V 60Hz ONLY):
The XTBR is a high-power plug-in unit that will repeat all valid X10 commands it receives over the powerline, including "doublet" extended commands produced by the CM15A and some other controllers. The XTBR now uses the same case as the XTB-232 and XTB-523. It no longer includes the X10 Boost receptacle on the cover, but that function is still available for an X10 transmitter plugged into a nearby outlet. (Inquire about the availability of a refurbished original version.)
The assembled XTBR requires receipt of a signed Liability Waiver before the unit will be shipped.
---
XTB-IIR 2-Phase Signal Booster/Repeater:
The XTB-IIR is an enhanced high-power dual-output X10 repeater. It includes a direct X10 Boost capability, and provides TW523 emulation to function as an X10 powerline interface for high-end devices, such as the OmniPro II, Ocelot, or the WGL V572A transceiver.
NOTE: NO Electrical interconnection cable is included with the XTB-IIR.
All XTB-IIR versions require receipt of a signed Liability Waiver before the unit will be shipped.
The XTB-IIR+ is a special order higher output version of the XTB-IIR that is built on the XTB-III PCB. It has the beefier XTB-III power supply, but runs the standard XTB-IIR firmware. Two versions are available: one optimized for long wire runs in a very large home or to other buildings, and one optimized for very heavy loads due to a large number of "signal suckers" in the installation. NOTE: These are assembled to order, which may delay shipping up to a week.
---
XTB-III 3-Phase Signal Booster:
Sorry, the XTB-III has been discontinued due to lack of demand.
---
XTB-232 RS232 X10 Powerline Interface:
The XTB-232 is a serial X10 powerline interface for PC-based automation systems. This plug-in unit emulates the CM11A "real-time" protocol, and can be directly used as a CM11A substitute for PC-based automation systems such as HomeSeer, Home Control Assistant, or XTension (Mac).
Note: The XTB-232 uses your CM11A cable. A custom cable and adapter is available separately for $10.
The assembled XTB-232 requires receipt of a signed Liability Waiver before the unit will be shipped.
Sorry, the 240V 50Hz version of the XTB-232 has been discontinued due to lack of demand.
---
XTB-523 X10 TW523/PSC05 Emulator (120V 60Hz ONLY):
The XTB-523 is designed to replace the discontinued X10 TW523 and PSC05 powerline interface modules. It provides the proprietary digital interface needed by controllers such as the OmniPro II, Ocelot, and the WGL V572A transceiver.
Note: The XTB-523 uses your existing TW523/PSC05 cable.
The assembled XTB-523 requires receipt of a signed Liability Waiver before the unit will be shipped.
---
XTB-ANR Active Noise Reducer (120V 60Hz ONLY):
The XTB-ANR is a small plug-in module that will significantly reduce even in-band noise on its circuit. One plugged into each phase near the distribution panel will significantly reduce the overall noise levels throughout the home, including any coming in over the utility feed.
Special: Check below to order a pair of these devices at a discounted price.
---
XTB-F10/F15 10-Amp and 15-Amp X10 Filters (120V 60Hz ONLY):
The XTB-F10 and XTB-F15 are high-current X10 filters. Component values have been chosen for minimum loading while providing maximum isolation for powerline noise generators.
Sorry, but the 15-Amp XTB-F15 is not available as a kit.
---
Echelon Smart Meter Rejection Kit:
Sorry, but the Smart Meter Rejection Kit has been discontinued.
---
X10 Products for XTB Customers only: (limited quantities)
---
We have some Leviton DHC/X10 overstock and "pre-owned" equipment available for less than wholesale. Some are on the X10 and Leviton electrical items page. Just ask if you need something not listed there.
---
SHIPPING:
Priority Mail and First Class Mail (for light items) are used for both US and international shipments. The shipping cost is based on weight. All expensive international shipments will go by Priority Mail with tracking.
---
ODERING & PAYMENT INFO:
Hopefully, the new shopping cart process will make ordering easier.
You can also place your order through PayPal by making payment to: jeff@jvde.us. Please contact us first for the shipping charge if you plan to use this method.
The PayPal category is GOODS. Please specify the device name(s) and Kit or Assembled for the email subject.
Please include 6.35% sales tax if the order is to be shipped to a Utah address.
A scanned copy of the Liability Waiver (if required) can be sent to jeff@jvde.us
Unless clearly agreed upon prior to your order, the shipment will go to your confirmed PayPal address.
Payment and Liability Waiver can also be sent to:
Jeff Volp <- make payment to
396 North Crestline Circle
St. George, UT 84790
Before sending payment, check our X10 and Leviton electrical items that can be included with $12 flat rate shipping in the US.
---
For more information, please go to the XTB Home Page.
Please contact us if you have any questions at: jeff@jvde.us
If you don't receive a response within 24 hours, try: xtbjeff@gmail.com
NOTE: I try to respond promptly to all email queries, but some of my responses have apparently been intercepted by spam filters. Please check your spam folder if you are waiting for my reply. Also note that reliability problems with our broadband provider have interrupted our Internet access for hours.